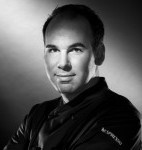 Sascha Berther
With 16 Gault Millau points and 1 Michelin star, served on a silver plate, restaurant Moospinte is a favourite. Its history, its garden and one of the biggest revelations of Swiss gastronomy make this restaurant a must. Thanks to the genius of Sascha Berther, each dish is a memorable pleasure.
Restaurant Moospinte in Bern: the charm of a family table
In the canton of Bern, in the municipality of Münchenbuchsee, you can find one of the most prestigious restaurants in Switzerland, the Moospinte (which roughly translates into the moss covered pub). With 16 GaultMillau points and 1 Michelin star on the silver plate, this is a favourite of the list of tables to reserve. If you are looking for a restaurant where every dish is a memorable pleasure, look no further. The Moospinte is a friendly space, dotted with modern, subtle touches. Discover the Moospinte's offer for the Nespresso Gourmet Weeks and reserve your table >>> 
On the Menu
The kitchen is the domain of Sascha Berther. Coming from a family of restaurateurs, he feels like a fish in water. As a wizard of gastronomy, he emphasizes that serving people is his credo. Here, the menus follow the season. To celebrate an inventive, high quality gastronomy, the card gets a facelift every 6-8 weeks. On Wednesday, Thursday and Friday, you can enjoy a three course menu for CHF 27.-. Classic dishes mark the card, with fresh inspirations from the market. The cellar contains wines that blend perfectly with the dishes, with local wines reigning supreme: the Three Lakes Region, the Grisons and Eastern Switzerland all figure prominently.
Some History
The Moospinte's story reveals over several chapters: In 1840, it opened its doors as a café, then transformed into a restaurant – a successful path that it still follows today, with more than 150 famous years to its name. Historically speaking, the Moospinte played an important role as a secret meeting point for political and military figures during the Second World War. Many celebrities have been sitting here, whose memories are kept alive with their names written on some of the chairs, like Queen Juliana and Prince Bernhard of Holland.
The best? The garden! The backbone of the gastronomic experience in the Moospinte provides vegetables, herbs and berries. Visiting this corner of paradise is a true delight. Lounging by the quietly bubbling stream, under the shady trees, marks every meal with an exquisite sweetness.
About Nespresso Gourmet Weeks
"The Nespresso Gourmet Weeks expand the horizons of coffee culture and once again give us an opportunity to surprise our guests. At Moospinte we enjoy the power of simplicity, of seasonality. Properly combined basic products result in creations that inspire enthusiasm and are liberated from being over-complicated." Sascha Berther
Social Wall: follow all the updates about Nespresso Gourmet