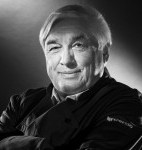 Jacky Donatz
A breath-taking view of Lake Zurich, a top-ranking chef and an inimitable, tasty cuisine: Jacky Donatz has already been awarded with 15 Gault Millau points. Indoors or on the terrace, this is the right place to feel in the clouds, your taste buds delighted.
The Sonnenberg Restaurant, where fine dining and views of Zurich merge
Sonnenberg offers an imposing mountain panorama and a breath taking view on Lake Zurich and the roofs of the city (the name roughly translates to sunny mountain). Risking disappointing fans of the landscapes, we still insist that your focus should be on the plate. Offering unique tastes, under the banner of 15 Gault Millau points, the Sonnenberg is serving great value, again and again. Gourmets looking for excellence, succulence and healthy feasting are drawn to this place. The restaurant Sonnenberg participates in the Nespresso Gourmet Weeks. To book your table, go right here >>>
The Chef: Jacky Donatz
Spicing up creative gastronomy with a touch of Italianità, Jacky Donatz, on the height of his 63 years, selects high quality ingredients and prepares the dishes artfully in an elegant and serene environment. From table to table, Jacky Donatz ensures that all tastes are met. With Sepp Blatter as a loyal customer, the Chef celebrates 15 years at the restaurant "Sonnenberg".
Sometimes he innovates, like with his poached egg on a cream of Jerusalem artichoke, accented with black truffle from Norcia, in Umbria (Italy): The egg had been cooked for 60 minutes with sixty degrees … Then again, he hangs on to his classics: the Mezzelune, garnished with beef and foie gras, and especially the legendary veal "Jacky": he roasts the Grison veal first and then cooks it in the oven, regularly pouring melted butter over it.
Indoors or on the terrace, this is the right place to feel in the clouds, the taste buds dancing with the angels … And now? Get your table!
About the Nespresso Gourmet Weeks
"The best things in life are the simplest ones! I embody this philosophy with my authentic cuisine built around the honest product that meets the highest quality standards – and respects both tradition and nature. That is exactly what happens with the exquisite coffee varieties that are essential for the perfect cup of coffee. I am looking forward greatly to the symbiosis of my genuine and authentic cuisine with the diverse flavours of the coffee world during the Nespresso Gourmet Weeks." Jacky Donatz
Social Wall: follow all the updates about Nespresso Gourmet